Jonas Andersson is a multi-time F2 Powerboat World Champion who, in 2021, also won the UIM F1h2o World Championship.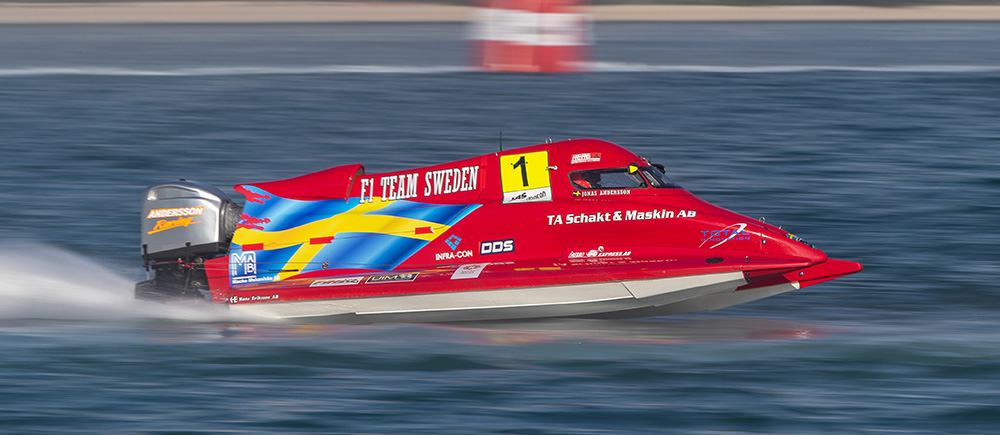 He is a remarkable powerboat pilot for his ability to build and prepare his boat and engine entirely on his own.
Despite having friends and helpers, he works  most of the time alone in his workshop in Sweden.
Career Highlights:
2022 – 2nd F1H2O World Championship
2021 – F1H2O World Champion
2019 – 2nd F1H2O World Championship
2018 – 7th F1H2O World Championship
2017 – 5th F1H2O World Championship
2016 – 4th F1H2O World Championship
2015 – 8th F1H2O World Championship
2014 – 12th F1H2O World Championship
2013 – 7th F1H2O World Championship
2012 – 7th F1H2O World Championship
2011 – 9th F1H2O World Championship
2010 – 9th F1H2O World Championship
2009 – 5th F1H2O World Championship
2008 – 3rd F1H2O World Championship
2007 – 9th F1H2O World Championship
2006 – 5th F1H2O World Championship
2005 – 3rd F2000 World Championship
2005 – F2 Scandinavian Champion
2005 – 1st F2000 President Cup
2004 – F2 World Champion
2003 – 3rd F2000 Scandinavian Championship
2003 – 3rd Scandinavian Timed Trial Trophy
2003 – F2 World Champion
2002 – 3rd F2000 Scandinavian Championship
2002 – 2nd Scandinavian Timed Trial Trophy
2000 – 3rd F2000 Scandinavian Championship
2000 – 3rd Scandinavian Timed Trial Trophy